December 3, 2020
Something Happened: A Brief Review Of The Lost Album From Junk Ranchers (Dumptruck)
What a surprise!
Recorded in 1986 and unfinished until now, the debut from the Boston-area band Junk Ranchers is a document of a scene similar to the one chronicled on that recent Strum & Thrum compilation from Captured Tracks. Brimming with ringing promise, 86 serves up chiming college rock with all the charm of early Wire Train, the force of Winter Hours, and the musicality of R.E.M. Based upon mixes by the famed Lou Giordano, this record was finally finished in 2020 and mixed by Kirk Swan of Dumptruck. The result is exactly the kind of thing that I would have loved in 1986, the kind of thing I can still easily love now so many years later.
The players here -- Jimmy Ryan (bass, backing vocals), Tony Pinto (lead vocals, guitar), Ron Ward (drums), and Nick Cudahy (guitar, feedback) -- approach each cut with vigorous intent. Comparisons to early R.E.M. seem easy to make, though "After All" is more direct, closer in spirit to The Smithereens even, than anything on the early discs from Stipe and co., while "Something Happened" walks a fine line between what The Connells perfected and the kind of material Wire Train and Translator offered up in their early years. "Drowning" works up a head of steam around a percussive pattern that's faintly hypnotic, while "Shadows" charges forward on the kind of rhythmic punch that brings to mind "Driver 8" and the push-and-pull between those pioneers of college rock. Only "Inheritance" here, the closer with 2020 guitar additions by Kirk Swan (Dumptruck), seems more mysterious and moody. Junk Ranchers may have favored chiming guitars, but they semeed to have had little time for the willful obfuscation of the Michael Stipe-fronted R.E.M.. So, imagine instead a record with Peter Buck as the leader of the whole outfit, obscurity jettisoned in favor of whatever Byrds-y hooks deliver the most pleasure for the listener, and you'll get some idea of the appeal of Junk Ranchers, as outlined on their previously-lost record.
I suppose "lost" is the wrong word since it was simply not finished after the early mixing by Lou Giordano (a guy who's likely engineered the best American alt-rock from the Eighties) in 1986. With the band splitting up, the rhythm section of Ward and Ryan formed The Blood Oranges, while Nick Cudahy joined Combustible Edison, a band featuring his brother Michael. And it was up to prodding from Kirk Swan of Dumptruck to convince front-man Tony Pinto to finally release this album. Heard now, there's so much to love here, and I realize that my review leans heavily on comparisons to past artists, but it's a useful method to suggest where this might have ended up in 1986, had it been released then.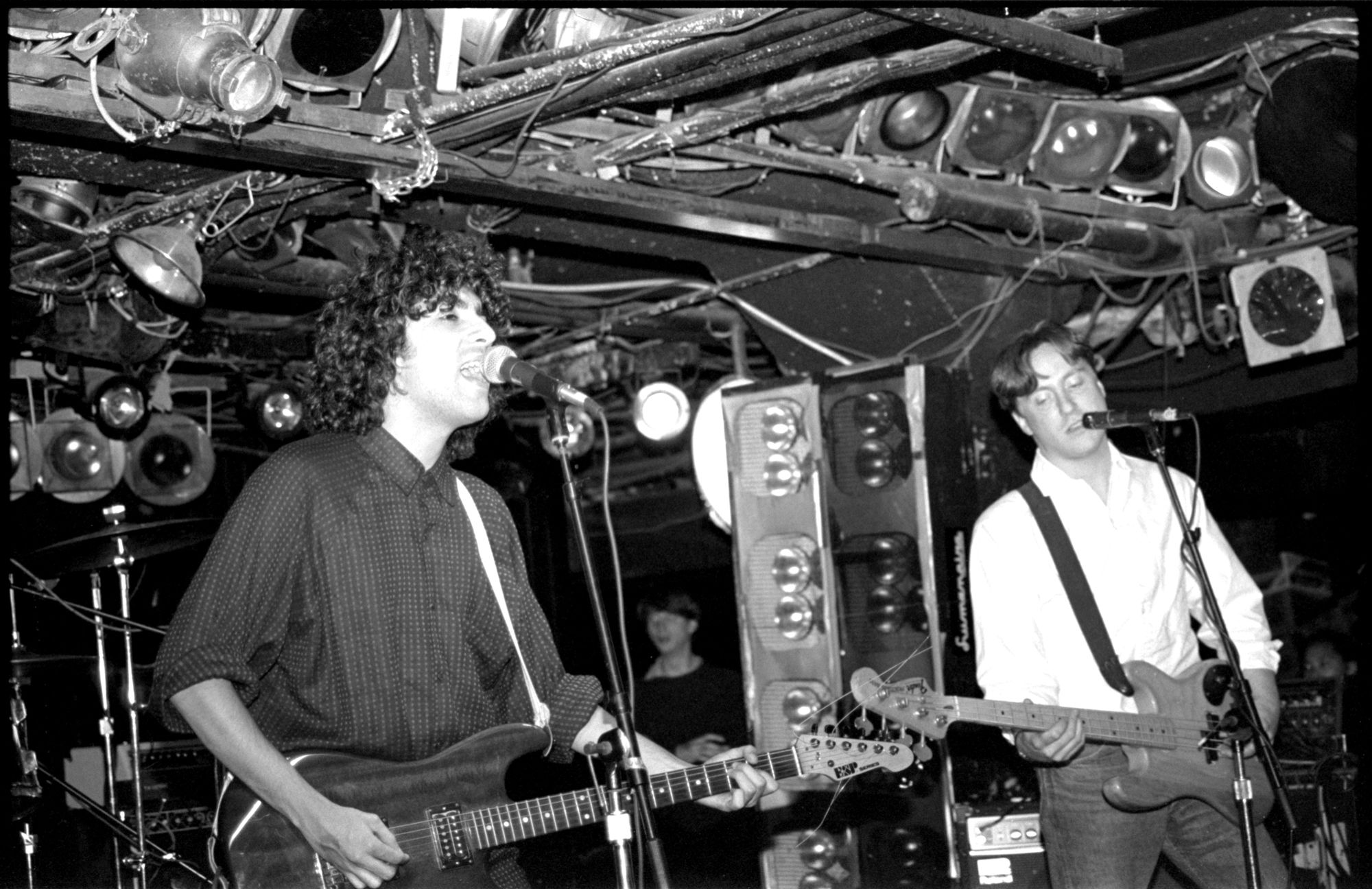 The band performing in 1986, Steve Michener (Volcano Suns, Big Dipper) watching from the wings.
One can imagine that Junk Ranchers would have found eager fans on the East Coast and elsewhere for sure, had this come out in 1986 or so, as the tracks positively ring with promise and purpose. Little here is unformed, with the hooks being wonderfully big and direct ones, even as the guitar-lines veer into more complicated territory. What's here should appeal to anyone who bought a Let's Active record, or an LP from The Connells, or a Wire Train single. As a portrait of a style that never really went out of fashion (hence that Captured Tracks compilation I referenced above), 86 is also the kind of release that works without knowing the back-story; it sounds like so much of what you loved growing up, or what you're trying to find in vinyl bins now, perhaps for the first time, that it would be impossible for me to not recommend this as highly as possible.
86 by Junk Ranchers is out on Bandcamp tomorrow and on physical formats in early 2021.
86 by Junk Ranchers
https://junkranchers.bandcamp.com/album/86
Recorded in 1986, unreleased until 2020!

Final mixes and mastering by Kirk Swan in 2020

Recorded by Geoff Patterson, White Dog Studio, Newton, MA, May, 1986

Additional overdubs summer 1986 with Lou Giordano, who also did initial mixes on several songs which we sent out as radio tapes at the time

Additional guitar part on "Inheritance" by Kirk Swan in 2020, everything else we recorded during the summer of 1986

Songs, design and cover photo of Ron Ward by Tony Pinto, band photo by Alex Williams RIP

Thanks to Jon Bernhardt at WMBR 88.1 at MIT for playing our radio tapes all these years

And special thanks to Kirk Swan for working so hard on this remix project and essentially making it happen

YouTube video of "After All" - made in 1986: youtu.be/I1NvpGH7TeI
credits
released November 27, 2020

Nick Cudahy: guitar, feedback
Tony Pinto: vocals, guitar
Jimmy Ryan: bass, backing vocals
Ron Ward: drums
license
all rights reserved