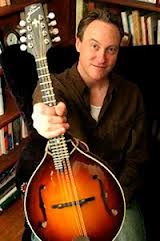 Welcome to the mandomaniacal, trans-genre world of
Jimmy Ryan. 

"Jimmy Ryan is one of those names woven into the fabric of Americana music. He's not atop the marquee, mind you, a la Lucinda Williams or Buddy Miller, but his contributions are considerable. He's perhaps best-known as one of the principals in alt-country precursors the Blood Oranges, but his cheat sheet also includes the more bluegrass-based Beacon Hill Billies, the rural-rocking Wooden Leg, and [...] an extended stint with Boston folkie Catie Curtis. Ryan may well be residing in your record collection in less obvious places, too -- his oft-unconventional mandolin playing has colored songs by such varied artists as Morphine, Warren Zevon, Dumptruck, Boiled In Lead, Gerald Collier and Mary Gauthier."

--No Depression Magazine
Sado-Domestics (acoustic trio w/ Jimmy Ryan on mandolin), The Nocturnal Adoration Society (Jimmy Ryan & Donna Sartanowicz, with Eric Royer on pedal steel and Chris Anzalone on drums), and The Emily Grogan Band
This St. Patrick's Day, Friday March 17th, join two Tipperary men, Jimmy Ryan and Bob Bradshaw, plus some of Boston's best musicians, for an evening of musical mischief at the Boston Harbor Distillery: 12R Ericsson St, Dorchester, MA.
Show presented by SHK Music.
Jimmy Ryan is one of those names woven into the fabric of Americana music. He's not atop the marquee, mind you, a la Lucinda Williams or Buddy Miller, but his contributions are considerable. He's perhaps best known as one of the principals in alt-country precursors the Blood Oranges, but his cheat sheet also includes the more bluegrass-based Beacon Hill Billies, the rural-rocking Wooden Leg, and [...] an extended stint with Boston folkie Catie Curtis. Ryan may well be residing in your record collection in less obvious places, too -- his oft-unconventional mandolin playing has colored songs by such varied artists as Morphine, Warren Zevon, Dumptruck, Boiled In Lead, Gerald Collier, and Mary Gauthier."

--No Depression Magazine https://jimmyryanmando.com/
Bob Bradshaw - Irish-born, Boston-based Bob Bradshaw has been exploring many facets of Americana music in the thirty years he's lived in the States – from the Texas singer-songwriters he strives to emulate to the roots rock he plays in bar bands any night of the week. He has lived in New York City and San Francisco, where his rock band 'Resident Aliens' was very successful in the 90s. He graduated from the Berklee College of Music in 2009, having primarily played in bluegrass ensembles there. Praised as a writer of "instant classics" by No Depression's Frank Gutch Jnr and a "master craftsman" by RnR Magazine's David White. David White. Bradshaw's tenth album of original songs,' The Art Of Feeling Blue,' will be released mid-2023. https://www.bobbradshaw.net/
$20/adv, $25/dos
This is a 21+ Show
Doors are at 7pm. Showtime is 8pm.
NO REFUNDS OR EXCHANGES
This event is being presented by 24 Hour Concerts and SHK Music at the Boston Harbor Distillery - a wonderfully unique and intimate setting to take in great music with its 1850's architecture, great acoustics, comfortable seating and fantastic selection of made-on-the-premises liquors and liqueurs.
More info about SHK at https://www.shkmusic.com/faq.
$20